Rents could rise as much as 10%
As if you didn't have enough to worry about today with rising gas prices, unrest in the middle east, the quakes and possible nuclear meltdowns in Japan, rising food costs and the Fed printing more dollars to combat the global recessions now some experts are suggesting that rents could spike as much as 10% in some markets next year across the US.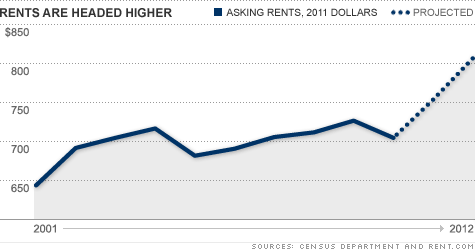 Rental vacancy rates have dipped below the 10% mark, where they had been lodged for most of the past three years. And according to Lee Christie, Staff writer for CNNMoney.com, "The demand for rental housing has already started to increase," said Peggy Alford, president of Rent.com. "Young people are starting to get rid of their roommates and move out of their parent's basements."
For years, even during the boom cycle of the last decade I have educated my clients that the number one value of homeownership is not the rise in value of the home and thus rise in personal net worth. Neither is it according to a study commissioned by Fannie Mae, children who grow up in homes that are owned versus those that are rented achieved better results in school and interpersonal relationships or even the good feeling that you get from pride of ownership. Admittedly while all of those are great reasons to own a home, they are not the best reason to own a home.
Good Fences Make Good Neighbors. Screwed by the Town of Cary, North Carolina
In my opinion, the number one reason to buy and retain your home is because it is the best hedge against inflation! You may be asking yourself, a hedge? What sir do you mean? Think about it like this. Let's imagine for a minute what would happen to the value of your home if your next door neighbor had a dispute with the city over imminent domain issues and in retaliation  decided to spray paint "Screwed by the Town of Cary" in red  paint across the side of his house (true story/click here for more). And then let's imagine that you lived in Cary, North Carolina that prohibits installation of privacy fences in your front of your home (like Cary does). In order to protect your investment you might consider a very tall hedge as an alternative to a fence in order to keep the eyesore out of sight from your home.
The same can be done to combat inflation because a home purchased today is the number one thing that you can do to protect yourself from rising inflation. Let's face it, you probably didn't have enough wealth to buy enough gold when it was $700 an ounce, let alone today at $1,400 per ounce but  today you can do something better.
Today's historic low real estate prices in Raleigh North Carolina and the surrounding areas along with similarly low mortgage rates have made homeownership the best tool or hedge against inflation the average person can use to protect themselves from the imminent rising prices.  Just consider this, today the US Government reported the Producer Price Index which measures the changes in wholesale prices rose 1.6% last month and that is the fastest rates since 1974!
"Companies raise prices on food, shoes, diapers"
Reads one headline at CNNMoney.com.  From the article "This week, paper-products maker Kimberly-Clark announced plans to raise prices on diapers and toilet paper later this summer. Nike said it would increase prices on their shoes. And food companies Kraft, Smuckers and Heinz recently announced price hikes on some of their brands."
"The increases are necessary to offset inflationary pressure from higher raw material and energy costs," Kimberly-Clark (KMB,Fortune 500) said in a press release.
Huggies diapers and Pull-Ups prices will rise by 3% to 7%, the company said. Cottonelle and Scott 1000 toilet paper will rise about 7%.
Kraft Foods (KFT, Fortune 500) raised its price on Maxwell House coffee by 22%, or 70 cents per pound, after Smuckers (SJM) said last month it would raise the price of Folgers by 10%.
The median home price dropped 5.2 percent in February from a year earlier to $156,100, the lowest since April 2002.
Read more at Fox Business News:

How can you leverage this opportunity?
There's an old saying in the business of real estate. "Everyone's got to live somewhere" and as the CNNMoney article eluded, more and more young people are getting tired of that place being their parents basement or a roommate. With the government just reporting today that February housing starts fell 22 ½ percent, the lowest on record, that means the value of existing homes have nowhere to go from here but up and so to mortgage rates.  If you have been waiting for the bottom, this loan officer is  going on the record as saying THIS IS IT! Of course we will have no way of knowing that to be true until we look back six months from now and see that I was right, but by then it will be too late and you will have missed the best opportunity to have bought real estate in easily 30 or more years!
Raleigh North Carolina Market Summary According to Truilia.com

The median sales price for homes in Raleigh NC for Dec 10 to Feb 11 was $178,500. This represents a decline of 3.5%, or $6,500, compared to the prior quarter and an increase of 0.3% compared to the prior year. Sales prices have appreciated 0.3% over the last 5 years in Raleigh. The average listing price for Raleigh homes for sale on Trulia was $291,412 for the week ending Mar 16, which represents a decline of 0.2%, or $715, compared to the prior week and a decline of 1.5%, or $4,521, compared to the week ending Feb 23. Average price per square foot for Raleigh NC was $105, a decrease of 6.2% compared to the same period last year. Popular neighborhoods in Raleigh include Northeast Raleigh, North Raleigh, Southeast Raleigh, Northwest Raleigh, University, and Southwest Raleigh.
If you are presently paying rent, have been paying rent for two or more years and are comfortable paying that rent and have been able to save some money for a down payment (see some of the other low and no down payment articles posted here) and are comfortable with your job then it is probably time to become an owner.  You should buy a home that you can afford, that doesn't leave you cash strapped and more importantly that you can live in for 5 – 12 years because this is where your greatest return will be recognized when (and it will) inflation causes the value of your home to soar (and it will). At that time you might be tempted to sell, and that will be ok – but you may want to take your pile of cash and return to renting for a while until the next bubble bursts! By that time your kids may be off to college and you may want to help them fund their education, either way you will be looking pretty smart for having bought low and sold high!
Call me today to learn more about these important changes and how I can create value for you and your customers!